Spread the love with your dear ones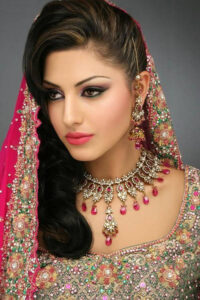 Bridal makeup with complete Bridal package Pre-bridal package Mumbai
Marriage is the pleasant, most happiest, exciting day for the Bride, Bride Groom, your families & dear ones. It's the soul fulfilling moment which you were awaiting since teenage days.
While growing up & cherishing your life you dreamt of looking like an Angel on your wedding day who would be so beautiful whom world has never seen especially a special surprise for your groom.
Now that dream is coming to reality you might have found that perfect groom for you or near about perfect ):, to whom you would like to swipe him out of his feet once he have a glance on you after which he should be too excited & take his eyes away.
Well we might help you in realizing your dream with our passion.
Our Passion is to bring out best out of you with our Enhanced skills.
ShowStopper Beauty Salon has reputed Experienced Professional Makeup artist with years of experience in realizing such dreams every bridal season year after year with Classic & Fashion trends.
It offers bridal makeup with Complete Bridal package pre-bridal package Mumbai.
Our special approach of Personality Based Grooming (PBG) is renowned technique wherein we would bring the bestest look you can ever imagine.
PBG technique is basically applying makeup, selection of base foundation, makeup kit, bridal hairstyles, wardrobe dressing & styling, Beauty Services like Advance Facials, Bleach, Body Polishing, Chocolate Wax, among other services based on your Body Structure, Skin Type, Face Structure, Hair Quality, Natural Bend & Overall Personality but ofcourse keeping in mind your preference will bring out best of your dream look.
PBG technique will bring out the best possible look out of your own personality which you might not believe for yourself which is brought out with some enhanced skills by our Makeup Artist.
With more than 100 beautiful brides we groomed who appreciate us & send special thankful messages, let us tell you nothing gives us more joy than your heartfelt messages which we will treasure for life.
Its our aim to make as many beautiful brides as much we can as this dream of every girl is very important hence we have also tried to kept the bridal package charges lowest as possible but maintaining our high standards of quality.
Bridal makeup with complete Bridal package Pre-bridal package Mumbai
Bridal Package & Pre-Bridal Package includes:
Pre-Bridal Package:
Eyebrow, Upper lip, Bleach, Full Body Chocolate Wax,  Advance Natural / Herbal Products Facial, Body Shine, Body Polishing, Hair Spa, Mehendi (on ceremony)
Bridal Package includes:
Face Makeup, Eye Makeup, Wedding hairstyles, Wardrobe Dressing (Sari Drapping, Sharara, Gown Dressing, etc), Hand Accessories, Hair Accessories. Jewellery Dressing.
To visit our Bridal work click here
To know more & get bridal package charges click here or fill form on the right & get latest discount offers.
Spread the love with your dear ones